Dear Marvelous People:

Our message today is entitled "The Power of Habit." For decades I've been involved in study groups and I highly encourage you to find a good study group in your field of endeavor as well. The book "The Power of Habit" by Charles Duhigg, recently inspired our Study Group Leader, Mr. Brooks Tish to be inspired to make positive personal behavior changes.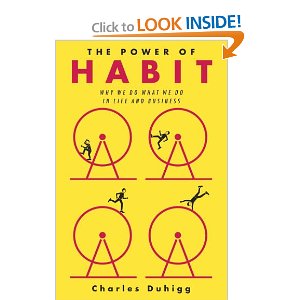 May you be inspired as you seek out your own positive behaviors and habits.

Marvin LeBlanc, LUTCF

Brooks writes:
A few days ago, while discussing "The Power of Habit," I promised (warned) that I would send something personal from my experience from the book.

Those of you who have been members for three or four years are aware of much of my health history, which has been compounded by being too short for my weight. My dear friend Mike Stoiber, in a total spirit of love and concern, approached me during a recent Tracker2 meeting and asked "Brooks. Have you ever considered losing weight?" I told Mike it was a high priority but tough due to injuries to my left ankle and my right knee it was tough to exercise. As much as I watched my diet nothing happened without exercise.

The first of March I dug a little deeper in the willpower well and stopped eating anything with flour or sugar, even most fruits. I knew that exercise was important. This is where "Habit" came in. I found an unused reporter's notebook that was left over from my 16 years of writing for newspapers and magazines. I started a diary of when I walked, what time of day, the wind, and how far I walked. I visited my knee specialist and had him inject some cortisone under the right knee cap to help ease the pain.

I exceeded my weight management goal of 20 pounds in March by ½ pound. We have a doctor's balance beam scale in the master bath so it is easy to see half pounds. Before I knew it, I was emptying out the dishwasher for my wife Dorothy. For some reason that chore really bothers her. It takes her half an hour to stress, drink another cup of coffee and slowly put the clean dishes away. So I started doing it. It takes me three minutes at most. One small success leads to another small success. Remember one of the "universals" we often discuss at the study group? Everything matters to everything else.

Today's entry: I started my walk at 9:10 this morning, in a light drizzle with a three knot wind, and walked one mile.

This book was selected for a reason—to help us find ways to change habits, to become more accountable to ourselves, personally and in our offices.

Even if you are unable to be with us in our upcoming study group, please find a small notebook and pick out a habit you would like to change, design a plan, and keep notes. It is motivating.

One more thing. It is hard to help your team members change an office or personal habit until they see their leader lead by example.

To a great small habit change.

Brooks Tish